Body Contouring With Stem Cells
2 Minute Read:
There is more focus on the body than ever in the world of cosmetic surgery. Procedures like liposuction, breast augmentation, and abdominoplasty are growing in popularity as patients seek the best method to sculpt and fine-tune their body shapes.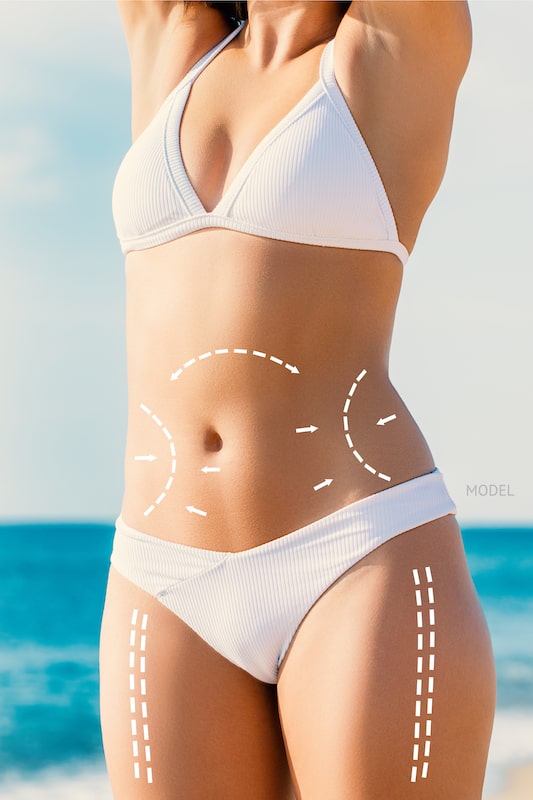 With stem cell fat transfer, patients get an edge over traditional body contouring procedures by using stem cells' powerful regenerative effects to shape and sculpt bodies for the most attractive, long-term results.
What Does Stem Cell Fat Transfer Treatment Involve?
Imagine your own stem cells from unwanted fat being transferred to act as a natural filler for amazing sculpting results.
Many traditional body contouring procedures like liposuction don't always yield the results that the patient desires, as patients can be left with contour irregularities or unnatural-looking dents.
Stem cell fat transfer corrects such irregularities, and since it reuses your body fat, it is a low-risk procedure.
The process begins with liposuction. Dr. Calabria removes excess fat deposits from precisely targeted locations using a thin suction device called a cannula.
The removed fat—from the abdomen, buttocks, thighs, and flanks—is spun through a centrifuge to isolate the stem cells. The stem cell-enriched fat is then injected into the treatment area to address your specific problem and smooth out contours.
Unlike fat grafting, stem cell fat injections significantly improve the survival rate of the transferred fat cells and help promote the growth of new fat cells post-treatment.
The biggest draw to body contouring with stem cells is that patients can achieve a more natural appearance with lasting contouring results. Patients also deal with less bruising and a relatively shorter recovery time than other traditional body contouring procedures.
Who Can Benefit From Body Contouring With Stem Cell Technology?
Stem cell transfer is particularly ideal for:
Younger patients
Patients with a good amount of extra fat to harvest stem cells from
Individuals looking to avoid more invasive surgery
Individuals who seek to correct irregularities or dents from previous surgeries
If you are considering breast surgery or body contouring, don't hesitate to contact us to discuss the potential of stem cell-enhanced plastic surgery and how it can improve your results.
Patients enjoy the confidence of having a very experienced and skilled plastic surgeon—Dr. Calabria—perform the procedure for great contouring results.
Interested in Learning More?
Come and let us help you determine if this type of procedure may be right for you.
Schedule a consultation using our online form or calling our Beverly Hills office at (310) 777-0069, our Rancho Mirage office at (760) 836-0077, or our Italy offices at +393494662323 to speak with Dr. Calabria and determine if body contouring with stem cell fat transfer can give you the end-result of a balanced, toned, and sculpted physique.