Can Fat Transfer Change the Shape of the Face?
3 Minute Read:
One of the most common frustrations with aging men and women is a loss of volume in the face. When this happens, the face can look thin and gaunt, which can cause patients to look older and more frail than they actually are.
The good news is that different non-surgical procedures can help to treat volume loss.
One of the most common cosmetic treatments for volume loss is dermal filler injections, but these results tend to last only a short amount of time. Fortunately, stem cell-rich fat transfer helps restore volume to the face and offers long-lasting results that can help you look rejuvenated for years!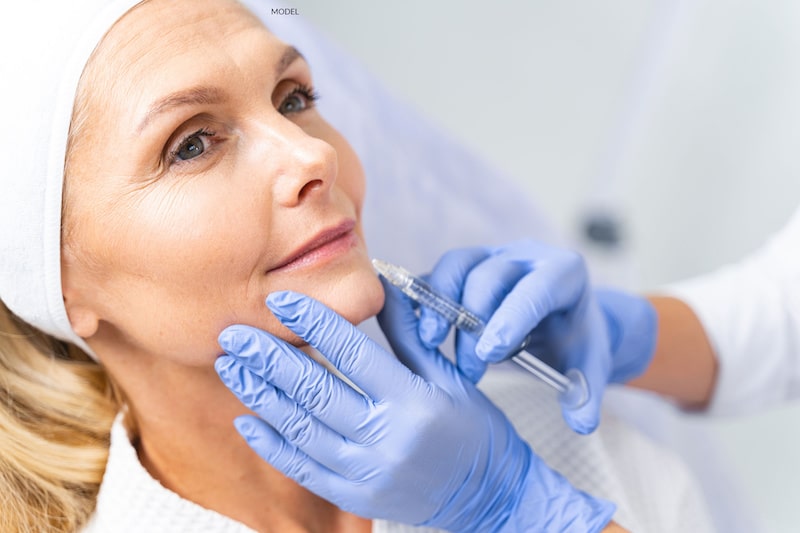 What Is Facial Fat Transfer?
Also known as fat grafting or a stem cell facelift, facial fat transfer is a minimally invasive procedure that helps add volume and youthfulness to the face.
For this procedure, liposuction is used to harvest fat from an area of your body (usually from the belly, thighs, or back).
This fat is put through an enzymatic process to break the fat down so that healthy stem cells are extracted.
This stem cell-enriched fat is injected into various hollow and gaunt areas of the face (often under the eyes and in the cheeks) to help volumize and restore the appearance of the face.
What Can Facial Fat Transfer Achieve?
Facial fat transfer offers some of the most stunning and transformative results available from a non-surgical cosmetic procedure. By adding stem cell-rich fat, you will be able to add volume to thin areas of the face, which can make you look younger and healthier than you have in years.
Your facial fat transfer treatment can change the shape of your face so that you have a fuller, more defined facial aesthetic. Because of this change in your appearance, you can feel more confident and comfortable in the way you look.
This fat can be used to contour the shape of the:
Why Should You Choose Dr. Calabria for Your Facial Fat Transfer?
While it may seem obvious, you shouldn't trust your cosmetic treatments to anyone. Instead, it is important that you have your aesthetic procedures performed by a trusted and skilled cosmetic surgeon who has experience and knowledge in the treatments and procedures they perform.
Dr. Renato Calabria is an artistically minded surgeon who takes pride in his patients' results and successes, while keeping their health, safety, and happiness first.
Dr. Calarbia strives to help each of his patients look the way they desire, and because he is experienced with performing fat transfer procedures around the world, you can trust that with Dr. Calabria, your facial fat transfer will allow you to have the revitalized facial aesthetic that you've been looking for!
Interested in Learning More?
If you want to learn more about the stunning results that can be achieved with stem cell fat grafting, then contact us today. You can call our Beverly Hills office at (310) 879-1488, our Rancho Mirage office at (760) 836-0077, or our Milan, Italy, office at +393494662323 or by filling out our online contact form.