Will a Non-surgical Stem Cell Facelift Give Me the Same Results as a Surgical Facelift?
3 Minute Read:
When comparing the potential results of a surgical facelift procedure with those of a non-surgical stem cell facelift, it's best to define cosmetic improvements as both lifting and enhancing.
A surgical facelift will lift muscles, soft tissue, and skin to enhance the face, and a non-surgical stem cell facelift will enhance skin and underlying tissue to lift the face — so to speak.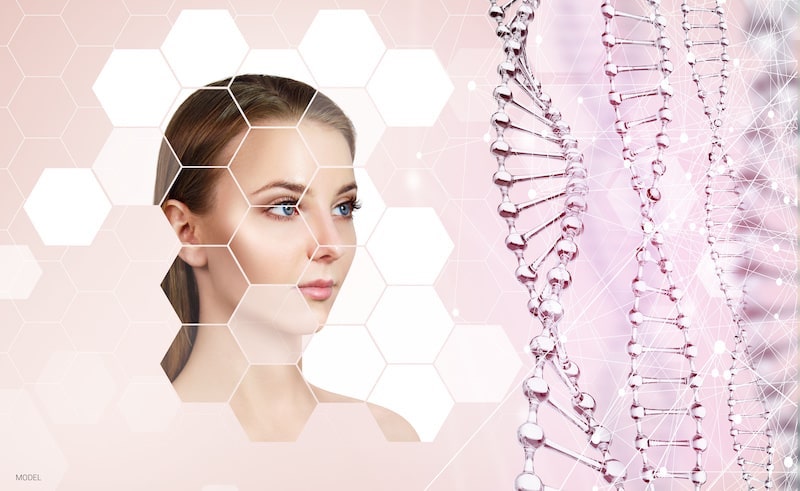 You can combine these procedures for a stem cell-enhanced surgical facelift to achieve the most dramatic and longest-lasting results.
Why Choose a Non-Surgical Stem Cell Facelift?
In a non-surgical stem cell facelift, purified fat containing regenerative stem cells is strategically injected to rejuvenate skin and underlying tissue so they naturally become tighter, smoother, and fuller (without incisions, stitches, or scars).
Anyone who has noticed early signs of aging can benefit from a non-surgical stem cell facelift. Men and women, typically from their mid-thirties to late forties, are usually the best candidates as changes like wrinkle development, loss of volume, and skin laxity are generally mild to moderate.
Results will vary but generally include:
Natural-looking but dramatic improvement – You can expect to see positive changes in about a month, but it will take up to six months to appreciate your final results. The improvement in your skin and facial volume will be quite noticeable to others, but because it happens gradually, they will not know you've undergone a cosmetic procedure (unless you tell them).
No scarring – Because this procedure involves no incisions or sutures, you don't have to worry that scars will give away your secret (if you decide to keep your treatment to yourself).
Little to no downtime – Some bruising, swelling, and tenderness should be expected after the procedure but should subside within a week. Some patients choose to take a week off, while others with duties that are not physically demanding may return to work after one or two days.
Long-lasting results – Stem cell injections work with your skin's natural healing and collagen-building regenerative qualities for natural results that last far longer than dermal fillers like JUVÉDERM®. While lifestyle, weight fluctuations, and quality of skin care will affect longevity, most patients who receive this treatment continue to enjoy their results for five to 10 years.
When to Opt for a Surgical Stem Cell Facelift
If you have many deeply set creases, extensive sagging, jowling, and pinchable loose skin on your neck, a surgical facelift will deliver better results.
Choosing a surgical stem cell facelift offers the following additional benefits when compared to a traditional facelift procedure:
Youthful facial appearance – A surgical stem cell facelift can instantly eliminate wrinkles, tighten skin, increase volume, and restore youthful facial contours.
Improved complexion – By adding stem cell-enriched fat to your facelift, the quality of your skin will improve over time for a softer, radiant, and more youthful complexion.
Faster recovery – Following your surgery, swelling and bruising are expected to last between two and three weeks, with most patients returning to work within two weeks or less.
Minimal scarring – A board-certified plastic surgeon with experience in the advanced techniques used in a stem cell facelift will need to make only two discreet incisions, with stem cells providing superior healing for scars that are difficult to detect.
Top Plastic Surgeon for Stem Cell Facelifts in Beverly Hills, CA
Dr. Renato Calabria is a board-certified plastic surgeon in Beverly Hills, California, widely recognized for his work with stem cells to provide long-lasting non-surgical facial rejuvenation and superior surgical facelift results.
He has made several notable TV appearances and has been featured in the following magazines:
Vogue
Vanity Fair
Cosmopolitan
Glamour
LA Confidential
The Los Angeles Times
Forbes Magazine
The Wall Street Journal
USA Today
If you want to meet with Dr. Calabria and learn more about what a non-surgical stem cell facelift or a surgical facelift with stem cells can do for you, call our Beverly Hills plastic surgery practice at (310) 777-0069.
Dr. Calabria is currently accepting new patients in Southern California at his Beverly Hills and Rancho Mirage locations.
Call (760) 836-0077 to reach our location in Rancho Mirage, California.