How to Achieve Naturally Fuller Breasts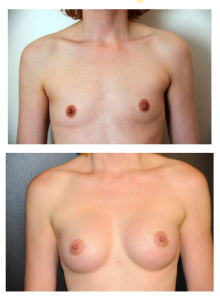 The appearance of youthful, perky breasts is considered a beauty ideal, and one that many women strive for. A breast augmentation can help women attain that ideal by enhancing the size and shape of the breasts. Breast augmentation is the most popular cosmetic surgery in the United States, and millions of women undergo the procedure every year. Many women have concerns that their breast implants won't look real or natural or that their breasts may look disproportionately large or misshapen. However, new advancements in stem cell technology can make your breast augmentation look even better than previous methods would allow. By utilizing fat grafts from your own body, Dr. Calabria can provide you with attractive, youthful, and natural new breasts.
How Does Stem Cell Fat Grafting Work?
The first step in the procedure is to extract fat from somewhere on your body like your buttocks or thighs. Adipose fat tissue holds the greatest concentration of adult stem cells, and liposuction is the most minimally invasive way to retrieve them. Once the liposuction procedure is performed, the fat and stem cells are carefully separated in a process that also purifies the stem cells. These cells are then recombined and injected into the breasts. Both the liposuction and breast injections are performed during the same procedure and will take four to six hours to complete.
What Is the Benefit of Stem Cell Fat Grafting?
The use of fat from your own body means that your breasts will not have a foreign object within them. Complications, such as capsular contracture, occur after standard augmentation procedures because the body begins attacking the implant. Using fat from your own body minimizes this risk and the risk of any allergic reactions.
A standard fat graft also has a risk of too much fat absorbing back into the body, which would make the size of your breasts less voluptuous than intended. However, with stem cell fat grafting, the risk of reabsorption is much less. These cells retain around 80 percent of their volume, so while there is still a risk of reabsorption, that risk is much lower. Most patients are still satisfied with the size of their new breasts after a year.
Additionally, your fat is extracted from your body by way of a liposuction procedure. This not only gives Dr. Calabria an ample amount of fat and stem cells to work with, but it allows you to target specific areas of your body for fat removal (sites like the tummy and thighs are common choices).
Because your augmentation procedure is done through the injection of stem cells, there will be no incisions and no scars on your breasts. The only scars from the procedure will be located at the liposuction incision sites. These will be small and will likely fade over time.
Recovery and Results
You will likely feel some initial discomfort around the liposuction sites. Your breasts may feel slightly tender and sore, though this will subside quickly. This discomfort can be managed with pain medication, and wearing compression garments will help minimize swelling. While you can expect to see immediate results, your breasts will continue to improve gradually as the implanted fat becomes part of your body. Your full results can take up to six months or longer to be clearly visible.
To learn how you can improve the appearance of your breasts with a stem cell breast augmentation, call us to schedule your consultation with Dr. Calabria today. You can reach our Beverly Hills office at 323.612.0859, our Rancho Mirage office at 760.836.0077, or our Italian offices at +39.349.4662323.