Asymmetrical Breasts After Baby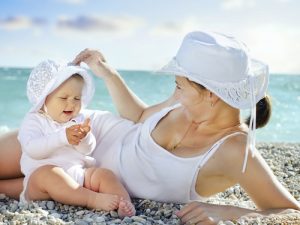 Pregnancy is one of the most monumental experiences in a woman's life, but the aftermath can be difficult to process. Sometimes the breasts become asymmetrical after pregnancy or breastfeeding, which can damage your confidence. Breast augmentation is an excellent solution to create breast balance, but there are alternatives to the traditional implants. Stem cell breast augmentation using fat grafting can naturally correct minor breast asymmetry resulting from pregnancy and breastfeeding for a fuller bustline.
Benefits of Stem Cell Breast Augmentation
Fat grafting is increasing in popularity because of how much it has to offer, particularly to those seeking breast enhancement. Stem cell-enriched fat is scientifically proven to deliver optimal results with fat grafting procedures. Dr. Renato Calabria has fine tuned his stem cell breast augmentation and has performed innumerable stem cell enhancements, giving his patients the natural curves they desire. Some of the benefits of stem cell breast augmentation are as follows:
Removal of unwanted fat during fat harvesting
Low risk of complications
Minimally invasive
Little downtime
Procedure
Stem cell breast augmentation is performed using purified, stem cell-enriched fat to enhance the breasts. First, unwanted fat is harvested from the patient's problem areas, such as the abdomen or thighs, and processed through the Celution® device to extract the highest concentration of stem cells. Next, Dr. Calabria injects the stem cell-enriched fat into the breasts using micro-cannulas to achieve the smoothest, most pleasing results with zero scarring.
If you wish to improve your breast symmetry after having a baby, schedule your fat transfer consultation with Dr. Calabria today. Contact our Beverly Hills office at 310.777.0069, our Rancho Mirage office at 760.836.0077, or our Milan, Italy office at +39.349.4662323. You can also contact us online by filling out our online contact form.