Benefits of a Stem Cell Facelift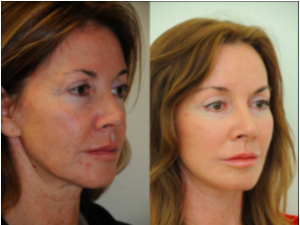 For decades, surgeons have been performing facelift surgery to restore a more youthful appearance to the face of men and women. The traditional technique used to involve pulling the tissues of the face horizontally in order to achieve a tighter facial appearance. However, this technique can often result in a wind-swept appearance. To combat poor facelift results, Dr. Calabria designed the vertical facelift, which addresses aging in relation to gravity and facial anatomy.
Having perfected the vertical facelift, in which tissues are shifted upwards to counteract gravity, Dr. Calabria began to notice that a lack of facial volume would prevent some patients from having the total rejuvenation they desire. These patients would best benefit from a stem cell facelift.
What Is a Stem Cell Facelift?  
A stem cell facelift uses regenerative stem cells that are harvested from fat cells. These stem cells are grafted into the facial tissues to restore lost volume and create a better facial sculpt. A special liposuction technique is used to harvest unwanted fat from certain areas of the body, and Celution® purifies the cells. Once the stem cells have been properly grafted into the tissue, Dr. Calabria completes his vertical facelift technique to counteract tissue sagging.
Benefits of a Stem Cell Facelift
Uses patient-derived fat to ensure no negative reactions to the injected material (unlike dermal fillers, stem cells are the patient's own tissue and won't cause an allergic reaction when placed)

Can be used to enhance definition and better sculpt the cheeks and chin

Dr. Calabria's techniques ensure the most natural facelift possible

Regenerative cells stimulate the production of new collagen and growth factors to ensure the longest-lasting results possible

Provides significant improvement in the volume of the facial tissues

Provides minor improvements to stubborn fatty areas of the body
If you have both volume loss and sagging skin that are creating a poor facial appearance, schedule your stem cell facelift consultation with Dr. Calabria today. Call us at (310) 777-0069 (Beverly Hills) or 760.836.0077 (Palm Springs), or you can contact us online.