Fat Grafting to Correct Liposuction Deformities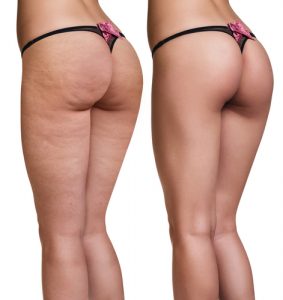 You may be familiar with celebrity horror stories of liposuction gone wrong.Dents, deformities, and a lumpy appearance are all the result of an improperly trained surgeon and poor recovery. When your liposuction leaves your appearance in worse shape than before, you may feel the need to cover your body. Unsight ly liposuction results can make you feel more self-conscious about your body than ever before, but that doesn't mean you have to live with these bad results. Dr. Calabria performs stem cell fat grafting on patients to reverse the effects of liposuction deformities.
What Causes Liposuction Deformities?
Poor liposuction results are often created when too much fat or uneven amounts of fat are removed from the body. This can cause dents and a lumpy, cottage cheese-like appearance. Surface irregularities are typically caused by an inexperienced plastic surgeon who doesn't have the skill to carefully craft your ideal shape through liposuction. In some cases, not properly following your recovery instructions can cause bad results.
Fat Grafting to Improve Your Appearance
Reversing liposuction deformities focuses on smoothing out the fat. In some cases, additional fat may be removed, but most patients don't have enough remaining fat in the area for this to be a viable option. Instead, Dr. Calabria can use fat grafting to restore your appearance.
Fat grafting works by harvesting fat from another area of your body. This area should have excess deposits of fat, and possible areas may include in the abdomen, hips, waist, thighs, or back. The fat is then purified into stem cells, which are carefully grafted into your treatment area. The new tissue helps fill in the dents and surface irregularities. Over time, the stem cells stimulate new growth factors, which smooth out and refine the area.
Choosing a Revision Surgeon
Dr. Calabria specializes in stem cell fat grafting and has extensive experience in liposuction revision. He combines the regenerative nature of stem cells with the artistic flare of liposuction to restore a smoother and balanced appearance. He has been one of the leading fat grafting plastic surgeons for the past 20 years.
If you are unhappy with your liposuction results and are looking for a smoother, more sculpted appearance, schedule your consultation with Dr. Calabria today. Contact our Beverly Hills office at 310.777.0069 or our Rancho Mirage office at 760.836.0077. You may also contact us online.