Fat Grafting for Breast Revision
Breast augmentation surgery is the top surgical procedure in the U.S. and has been for decades. With new implant technologies and surgical techniques, we see more natural and beautiful breast augmentation results every year. However, some women who undergo this procedure do not achieve the aesthetic they originally envisioned. Some of the most common breast augmentation complications are:
Rippling: Visible implant rippling is common, especially in women with thinner breast tissue or those whose augmentation was performed using saline implants.
Visible Edges: Noticeable implant edges can occur in women with thin breast tissue or who have a narrow chest wall.
Implant protrusion: If the pectoral muscle has been over-skeletonized to create projection and cleavage, the implant may protrude from beneath.
Capsular contracture: The scar tissue shell that naturally surrounds the implant has hardened and constricted the breast(s).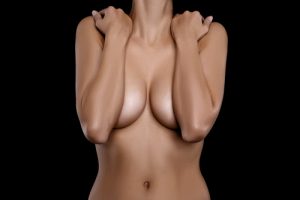 Whether the results of your breast augmentation do not meet your expectations or postoperative complications have altered the shape of your breasts, it may be time to consider breast revision using fat grafting to achieve the bustline you desire. In the past, an implant exchange was the only way to perform breast revision surgery. However, Dr. Renato Calabria uses a revolutionary fat grafting breast revision procedure with stem cell-enriched fat to improve the shape and aesthetics of augmented breasts.
Benefits of Stem Cell-Enhanced Fat Grafting
More women are choosing fat grafting over implant exchange because of the incredible advantages of the procedure. Dr. Calabria's fat grafting procedure utilizes stem cell-enriched fat, which is scientifically proven to provide more permanent and longer-lasting results. Since fat grafting uses patient-harvested fat, you can contour other problem areas of your body to sculpt a more attractive figure, such as a flatter tummy, more slender hips, or slimmer thighs. Additionally, because the fat is injected using a syringe, it doesn't cause any additional scarring on the breasts. In general, patients who choose fat grafting for breast revision find their procedure to be less invasive and more beneficial for improving their overall appearance.
If you are unhappy with your breast augmentation results, fill out our online contact form to schedule a consultation with Dr. Calabria and see if fat grafting is right for you.
How Can Fat Help?
Fat grafting can be used in specific revision cases where a poor breast appearance is caused by implant distortion. Adding fat to the breasts helps plump the tissue, which masks the visible surface or edges of the implants. This process creates a smoother breast appearance and a more natural transition between the breast and chest wall. The technique of fat transfer can also transform the shape of the breasts, providing better definition and improved overall breast shape.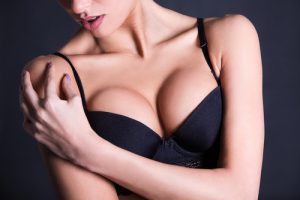 Improving Rippling or Dimpling
If you choose saline or textured implants for your breast augmentation, you may find that the uneven surface of the implant is visible under your skin. This is often the result of thin breast tissue that shows the imperfections of the implant. Fat grafting can transfer fatty tissue to the breasts to conceal visible rippling and leave a smoother breast appearance.
Conceal Implant Edges
Like with rippling, women with thin breast tissue are more likely to develop a distinct line around the edge of their implant. This can create a more noticeably augmented look, as the appearance of the implant is prominent. Fat may be transferred to the edges of the implant to create a more seamless transition between the implant and the chest wall.
Better Size and Projection
If you feel that your breasts aren't the size you envisioned or that they don't sit properly on your chest, you may not need to replace your current implants after removal. Adding fat to the breasts may provide the volume increase that you desire. In some patients, fat grafting can enhance cleavage and improve the projection of the breasts.
Eliminate Capsular Contracture
Women who have experienced capsular contracture (the tightening of the scar tissue around the breast implant) may choose to remove their implants and use fat grafting to enhance the size of their breasts. While breast enhancement using fat provides a more modest size increase, it doesn't run the risk of painful capsular contracture development.
Achieve the Breasts of Your Dreams
Imperfections and complications can occur following your breast augmentation. Some of these issues present themselves early on, while others develop over time. With the near perfection of the modern fat grafting technique, we have found that we can improve the appearance of the breasts without having to remove or replace implants. If you are dissatisfied with your breast augmentation results, it might be time to see if breast revision using fat grafting will provide you with the results you desire.
If you wish to improve the appearance of your breasts after a previous breast augmentation, schedule your fat grafting consultation with Dr. Calabria today. You can call our Beverly Hills office at (310) 777-0069, our Rancho Mirage office at (760) 836-0077, or our Milan, Italy, office at 39.349.4662323.