How Does Stem Cell Plastic Surgery Compare to Traditional Procedures?
People are getting plastic surgery now more than ever before since procedures are increasingly personalized to their unique needs and goals. But people also want their procedures to provide natural results using natural materials rather than synthetic products.
Stem cell plastic surgery offers the double benefit of slimming areas of the body and using the patient's own fat-derived stem cells for enhancing other areas of the face and body. The incredible capacities of stem cells make them the ideal addition to tried-and-tested fat grafting techniques for the body and face, with a host of benefits that keep proving themselves long after surgery is done.
What Is Stem Cell Plastic Surgery?
Essentially, this term covers the use of stem cell-enriched fat for cosmetic surgery uses. Stem cell plastic surgery uses liposuction to extract fat from unwanted areas of the patient's body. A specialized process purifies the stem and regenerative cells from the fat, which are then strategically injected into other areas of the body to add volume.
What Is the Stem Cell Facelift?
Simply put, the stem cell facelift uses a powerful combination of stem cells and Dr. Calabria's vertical facelift technique to rejuvenate the face. Much more than just a facelift, this procedure offers a unique mix of surgical precision and regenerative benefits other procedures can't match.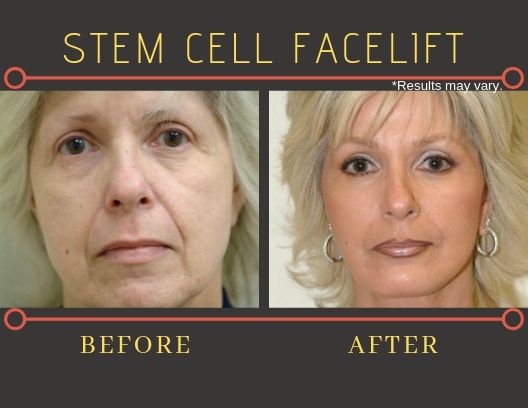 How the Stem Cell Facelift Works
Unwanted fat is purified before the stem cells are re-infused back into the face, with Dr. Calabria injecting them directly under the facial muscles. The stem cells boost the skin's own regenerative cycle and immediately replace lost volume, resulting in significant facial rejuvenation.
At the same time, Dr. Calabria also re-drapes and tightens facial muscles using his vertical facelift method, where tissues are restructured and anchored in a vertical fashion—more closely mimicking the natural motion of facial muscles for a naturally lifted result.
Benefits of the Stem Cell Facelift vs. Traditional Facelift Surgery
Enhanced Results
A stem cell facelift can dramatically lift and plump the tissues of the face, improving the appearance of wrinkles, fine lines, hollows, and sagging facial contours.
Because of their regenerative nature, stem cells will continue to improve the facelift results over time. As the stem cells prompt the creation of new cells, skin and tissues are regenerated continuously, boosting collagen production for smoother, more youthful skin.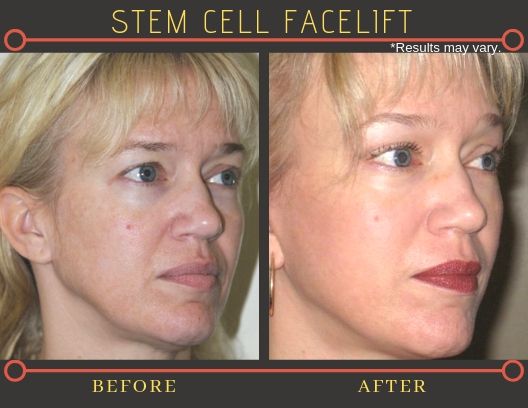 Shorter Recovery Time
Dr. Calabria's stem cell facelift not only provides superior results compared to the traditional facelift, but its recovery is easier and faster than that of a traditional facelift. Smaller incisions with less tension on them result in less scarring. The infusion of the stem cells themselves also expedites the healing process by ramping up new cell production.
Typically, there will be some swelling and minor pain right after surgery. Dr. Calabria may prescribe pain medications to minimize discomfort, but most symptoms should resolve within three weeks. Patients can go back to work and their normal activities 10 to 14 days after surgery.
Fewer Surgical Risks
The stem cell facelift uses stem cells drawn directly from the patient's own body fat. There is no chance the body will reject them, cutting down the risk of infection, a bad reaction, and other complications.
Want to learn more about stem cell plastic surgery? Contact us online to schedule a consultation or call our Beverly Hills office at 310.879.1488, our Rancho Mirage office at 760.836.0077, or our Milan, Italy, office at 39.349.4662323.