Men's Rejuvenation With Stem Cell Facelift
3 Min Read
In today's world, many men want to look as though they are ready for anything at any time. For them, it is the first step in projecting a strong male image.

Having an appearance that looks rested and vigorous is the most important part of that presentation.

The desire to project that kind of image is driving men of all ages to seek plastic surgery to get the look they've always wanted.

One of the best ways to achieve that goal is through Dr. Calabria's stem cell facelift, a procedure powered by a patient's stem cells that help to tighten and fill tissue to create a more lively, natural appearance.
What Are Stem Cells? What Do They Do?
The fountain of youth may be just a legend, but the search for its mythic effects is no story. It drives a multi-million dollar industry centered around youth and beauty.

Stem cells' amazing capacity to reproduce and repair cells evokes the fountain's legendary benefits, providing a rejuvenating effect that makes them a perfect companion to Dr. Calabria's precise surgical techniques.

These cells promote the body's own growth factors and healing response, creating a regenerative effect that helps boost facial volume and improve signs of aging.
The Stem Cell Facelift
Dr. Calabria offers the stem cell facelift for men looking to remove signs of aging, such as:

Wrinkles around the eyes, aka crow's feet
Creases along forehead and brow
Sagging tissue or loose skin
Excess fat under the chin or along the jaw ("jowls")
Dark spots and other damage
How the Stem Cell Facelift Works
Dr. Calabria's stem cell facelift is unique in that it combines his innovative vertical facelift surgical techniques with the power of stem cell-enhanced fat transfers for better results.

The fat used for the procedure is derived via liposuction then filtered through a special process that extracts the stem cells.

The stem cells are then carefully and strategically injected as Dr. Calabria redrapes facial tissues, using two discreet incisions that leave little visible scarring.
How the Traditional Facelift Compares
A traditional facelift uses surgical techniques to tighten and lift facial tissues.

Its regenerative effects are second to none when it comes to removing deep signs of aging, especially sagging or drooping tissue.

But the stem cell facelift provides rejuvenation that, for men, may be preferable to a traditional facelift's more extensive methods.

Since it only uses two small incisions and the stem cells boost volume, results tend to look more natural than other techniques.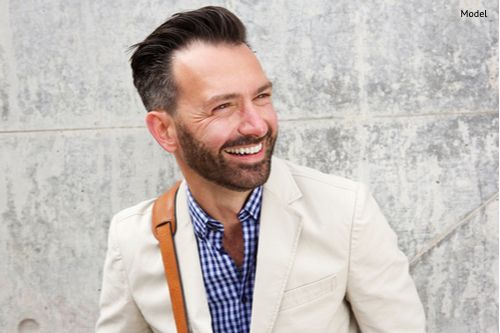 For men who want to avoid an overdone appearance, the stem cell facelift visibly tightens and lifts while also filling out hollows and dark areas.
Stem Cell Plastic Surgery
Stem cells are also useful in other plastic surgery procedures that help men achieve a younger appearance.
Body Contouring
As with a stem cell facelift, Dr. Calabria extracts stem cells via liposuction when performing body contouring procedures.

This time, the stem cells are used to firm up or add volume to certain areas. Combined with liposuction, the technique immediately enhances tone and body shape.

For men, body contouring using stem cells provides enhancement that looks natural and fits perfectly with existing body contours for a lean, sculpted shape.
Want to Learn More About the Stem Cell Facelift?
Contact us online or call our Beverly Hills office at 310-879-1488; our Rancho Mirage office at 760-836-0077; or our Milan, Italy, office at +393494662323 to schedule a consultation soon.